From left: Greg and myself
I have known Thng Geng Chen (more commonly known as Greg, Gregory or Fat Greg) for almost two years. I have played a lot of online games with him and I still do. Although he is leaving NYP just as I'm starting my first year here, he has given me a king's fortune worth of insights on the day to day affairs of an SIT (School of Information Technology) student. Although he is not a star student in terms of his GPA, his stories have given me an unfiltered image of what polytechnic life holds for me.
Greg mainly plays MMORPGs and FPS online games. We play them with a close group of friends with diverse backgrounds. When he plays with us, he brings his usual dose of satirical cheer and crude humour, which I personally find somewhat Shakespearean in nature. Even while joking around, he still finds time to offer a close listening ear to anyone's problems and lends his invaluable support.
In the past, I had wondered how he kept his personality as shiny as his bowl-cut hairstyle and as full as his figure, but I later realized that it was his attitude to life that makes it as such. Greg does not care about a lot of things. As a result, he has less to worry or be sad about. Although he admits to neglecting his studies, he has not dwelled much on it. This has shone a guiding light for me, as I can now decide how to traverse my life and conquer its obstacles.
On his graduation day, I interviewed him on the top 5 things he'll miss most about NYP.
#1 Friends
Greg: Well, one thing's for sure, I'll miss the friends. You've been seeing them every day for three years and suddenly not seeing them anymore, it's a bit sad. However, a new door awaits. I mean, after this, I'll be waiting for my enlistment letter and hope that NS will be a good two years of my life, so I'm really looking forward to that. Graduation was really a relief as well, after three years, I didn't fail anything.
Me: Are there any people you'll especially miss?
Greg: There is actually one, my course-mate Jeremy. Jeremy is overall a really nice person. He has helped me in many difficult moments, like when I couldn't cope with studies and family issues, he was really there all the way. There's also course-mate Stephanie, but when I think about it, there's also so many other people that I'll miss. Stephanie cried today as it was the last day of school, and we were all consoling her and throwing her tissue packets. I'll really miss that side of her. Luckily, I'll still be able to meet up with all of them after this. I don't think any of us has plans to travel overseas for university.
#2 Food
Greg: During my time in NYP, there's this couple that I'll always miss from the snack stall in Koufu. They're the couple that sells prata rolls opposite the drinks stall.
Me: Prata rolls? I'm not sure if I've noticed them.
Greg: Well, they're something that I'll really miss. That was the place to get snack food, food on the go. When you're really hungry, you can leave the lecture hall (me: don't do that) and go there to buy food. It's really great comfort food. I ate it at least once a week.
Me: That's why you look like this.
Greg: They're not really fattening, they're hotdogs, and hotdogs are quite healthy. The lady at the stall, she always had some great green chili that I loved. I would always ask for it.
Greg: Another kind of food I'll miss is the one dollar chicken nuggets at the South Canteen. They're sold at the Malay food stall. No matter when you come for them, they're always nice and fresh. It's only a dollar for five nuggets.
#3 Lecturers
Greg: One other thing I'll miss are the lecturers! One of the lecturer's I'll miss is Dr Koh Noi Sian, from SIT and Ms Liz Weng. She hasn't formally taught me, but she's a really nice teacher. Even though we're not in her class, she always offers her help to us. These two teachers are really memorable. For example, Dr Koh taught me math related concepts from Year 2 onwards. She always has this smile on her face and is a really nice person overall. She also attained her PhD before the age of 30.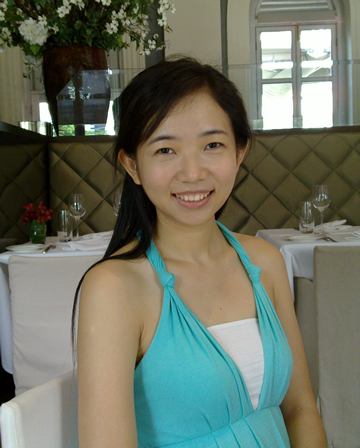 Dr Koh Noi Sian
#4 Facilities
Me: What about facilities?
Greg: The gym for me was not really up to standard, but I haven't seen the new gym. Before you came in, there was another gym at the sports hall. Now there's a new one called Bodywatch at T-Junction. I haven't been there yet.
Me: I've been going there, it's nice.
Greg: You are lucky in terms of facilities. Everything was under renovation when I was in Year 1. The Cheers outlet was not where it is today. It was at a place called the Arcade. Cheers used to be there, it was small and crowded. There was also a bookstore there, before Popular. It was great because it also sold different kinds of snacks. If you got bored of the ones Cheers sold, you could go there. There were tubes of flavoured honey. They were only fifty cents each. It also sold other hard to find snacks.
Me: Are there any other facilities you'll miss?
Greg: The Block L printing shop. The lady there has a perpetual attitude, even when you give her business. I also regret not using the swimming pool. After training at NYP for NAPFA - which I failed, my classmates would suggest going for a swim but I never got around to doing it.
Me: What's the fifth thing you'll miss?
Greg: This is a hard one.
Me: Say anything, I'll find a way to fit it in.
#5 Catering
Greg: This may sound strange, but when NYP has events, there is always catering. They order food from the North and South canteens, so one of the amazing things they have is the chocolate éclairs. There will be appetizers, main courses and all but the first thing to vanish is the chocolate éclairs. It's really the best thing there. The food is also always just placed along the corridor. Sometimes, even the lecturers will call us to help ourselves and help finish up the food. Sadly, if they say that there's no éclairs left, we would be reluctant to go. The éclairs and drinks are great, who doesn't like sugared water?
Final Thoughts
Me: Is there any advice you can give to those who have yet to graduate?
Greg: Don't make the mistakes I made, I played so many online games that my GPA was almost impossible to salvage, but I managed to pull a 1.6 up to a 2.2. Do your tutorials and do well for your tests, everything is very important.
-----
Greg
Closing off this article, I would like to thank Greg for being my friend for so long and would like to wish him all the best for his next two years of National Service and future life.
By Matthew Ho, Year 1, Diploma in Cyber Security and Forensics